Case Studies: Child Abduction
When A Family Member Abducts A Child You Need Professional Help For Recovery
The Case of the Familial Kidnapping: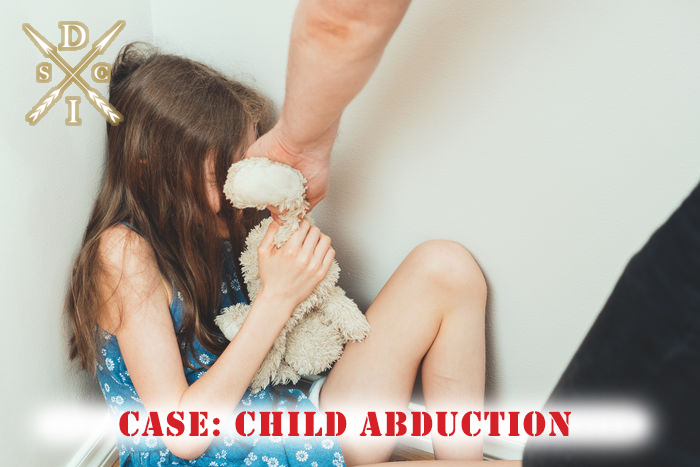 Familial abduction is all too familiar to our investigative team. Derecho Investigations has been called in to help recover missing children, in the case of a non-custodial parent taking their child away without permission. This is considered kidnapping.
While the police are typically called, there is very little they can do in the case of a domestic dispute. They will ask to review paperwork, but without a court order they are not likely to look for your child if they know the child is with the other parent.
In one example from our case files, a father decided to take their child away without the mother's consent. We worked for 18 months on the case, looking for indications of where the father absconded. We surveilled certain relatives within the region for an extended period and finally saw signs that the father was visiting them on occasion.
There Is Only So Much That Law Enforcement Will Do To Recover A Child. Most Families Need Professional Assistance:
The attorney in the case filed and received an order for the police to retrieve the child. When the subject arrived at the target location, Derecho Investigations was able to involve the police and alert them to bring the child home.
We assisted with the recovery of the child and reunited the family. When you are the victim of a kidnapping, it is often a relative that commits the crime. Unlike the police, we work directly for you, and can concentrate our efforts over an extended time frame so that you too can have a successful recovery.
Maintaining Confidentiality:
In addition to corporate investigations, our private investigators handle a wide range of sensitive legal matters. Contact Derecho Investigations in Charlotte, North Carolina to conduct investigations relating to:
Blackmail
Extortion
Skip tracing
Business investigations
Criminal case reviews
Surveillance
Protecting Our Clients:
We also provide client protective services you may need during a high-profile investigation. We are highly trained in executive protection and can keep you safe if you are threatened during an investigation.
CALL Derecho Investigations: (833) 377-4871
to schedule a private consultation.