Understanding The Power Of First Aid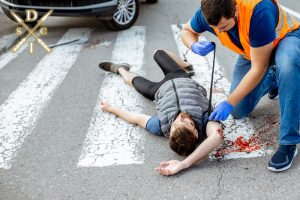 83% of victims in serious car crashes can be saved with the use of a tourniquet.
No one plans on being in a serious car accident or having workplace machinery injure you. The fact is this happens more frequently than people want to admit. Coming from a military background where you expect injuries, the one recommendation we can make is to learn something about trauma combat casualty care. At least learn first aid.
There are steps you can take to be better prepared to react in such situations.
First, stay calm. If you are the injured party, I know this is hard to do, but you stand a better chance of surviving if you can keep your wits about you. Check yourself over. If there is immediate need to stop bleeding of a limb you must apply a tourniquet to yourself. It is very important that you have the materials in place in your vehicle, easily accessible should the worst occur. A first aid kit including a tourniquet should be under your seat, and another tourniquet placed in your center console or door in case the seat is crushed against the kit.
While nobody wants to think about these scenarios it is best you do so in advance. Your life and the lives of others may depend on you knowing what to do.
In order to be prepared, plan on taking a first aid course as soon as possible through your local YMCA, the Red Cross, even the Scouting organizations sometimes teach these courses. Pay close attention and make notes for the segment on making and applying tourniquets. Get hands-on practice using the first aid techniques. Practice quickly and effectively. In an emergency you will react and perform how you practiced. If you do it half-heartedly or without urgency during practice that is how people tend to perform in a crisis.
Other forms of first aid are important, like performing CPR to resuscitate a person, the Heimlich maneuver to stop choking, using an Epi-pen for anaphylactic shock from insect stings for example, and applying compresses to large wounds; but the one simple method that can help greatly increase chances of survival is applying the tourniquet. Knowing how to use it, how much pressure to exert, and then being able to get help or transport a victim may be key to living through a nightmare.
Personal safety and survival can boil down to some very simple training. Derecho Investigations believes if more people were prepared then when a tragedy strikes we would all be in a better position to help each other.
Derecho Investigations recommends local resources to complete your first aid training. The American Red Cross and YMCA usually have classes scheduled. Call us for your security needs: (833) 377-4871 .